Gear List for One-day Hikes/Backpacking in Taiwan
Speaking of hiking or backpacking gear in Taiwan, those questions might pop up: What should I bring? Do I need to prepare different equipment to accommodate the terrain and weather conditions? What is the essential gear to go hiking in Taiwan? Do I need to wear bulky rain boots to hit the trail?
In this post, I will share my experience and what I've learned from the past few years doing solo hikes, group hikes, and multi-day hikes in Taiwan.
The first post is my gear list of one-day hikes, and I'll leave a PDF checklist download for those who need it.
Please note that I am not affiliated with any company mentioned in this post so far. I bought all the products out of my own pocket. I have had a positive experience using them, so I share them here. But I also welcome further cooperation with brands that I like.
Terrains in Taiwan That Make Hiking Different/Difficult
Hiking in Taiwan can be like walking in the jungles,
or racing in the mud,
or swimming in the bamboo sea,
or tripping in the tree roots,
or wandering in the beautiful cedar woods,
or crawling under the fallen big trees,
or hike in the deep snow,
or just taking endless steps to the top, especially the stone steps at Yangmingshan National Parks...
You get the idea.
We have all kinds of terrains and vegetation ranging from low altitudes to high mountains. So, most of the time, it's difficult to tell people new to Taiwan's mountains what the average trail terrains are like in a few words.
The List of My Essentials for the One-day Hikes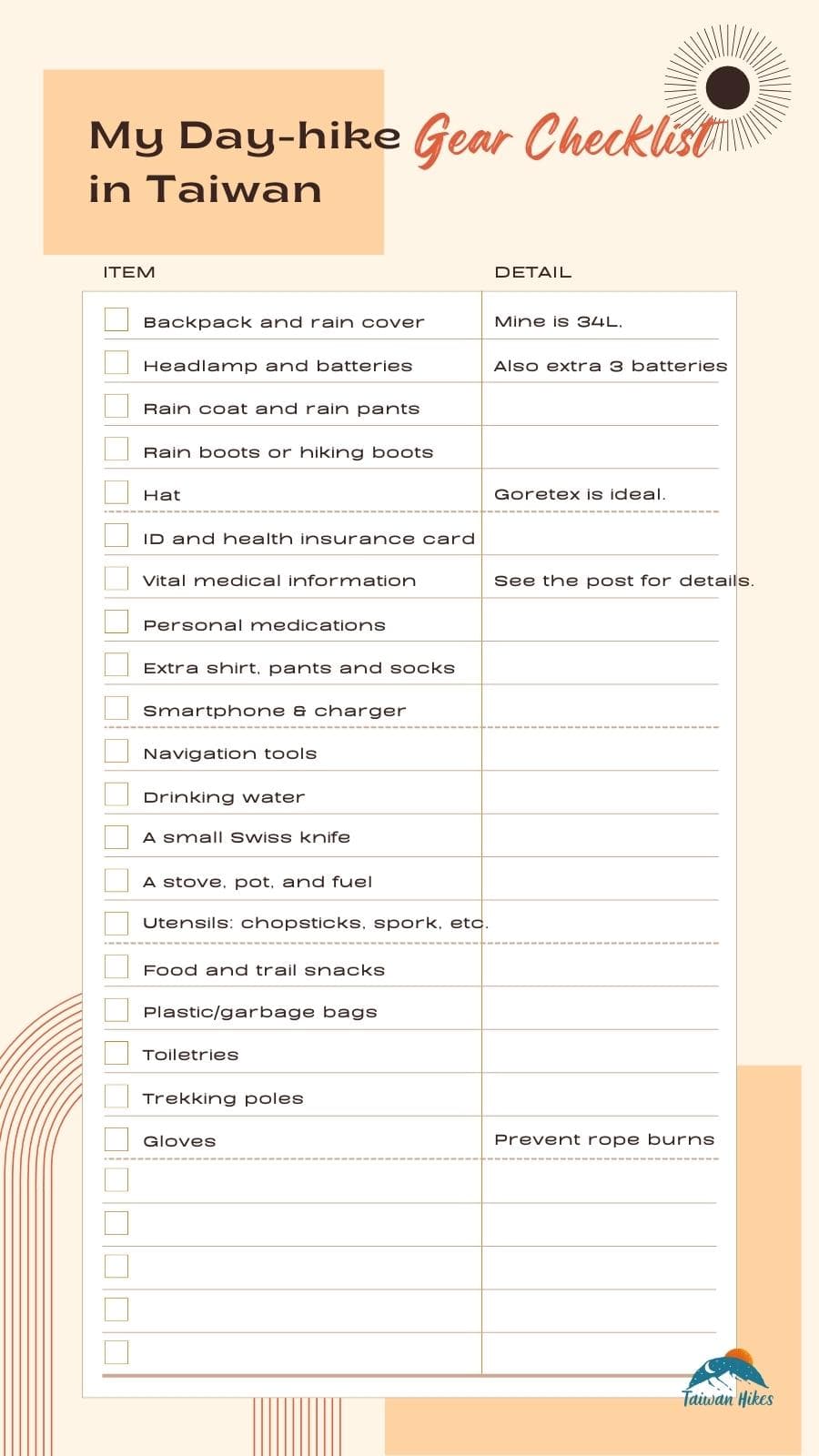 You can download the PDF file by clicking
here
.
Backpack and Rain Cover
My current backpack for one-day hikes is a 34L one
(Gregory Amber 34.)
For most day hikes in Taiwan, 34L might be too big, but I sometimes carry a big water bladder to do weight training. I like this one's adjustable back length. The hip belts naturally fit my body, making it comfortable on the trails.
To keep stuff dry when it rains, I use a big stuff sack (20L) to put my spare shirt, pants, socks, stove, etc., in it. I also use smaller ones to keep my other stuff dry. In addition, some hikers buy heavy-duty plastic bags or garbage bag as a waterproof pack liner.
Whether rainy or not, I always put on a rain cover for my backpack. Of course, the rain cover can't keep my backpack totally dry when it rains. But, it can keep some bugs like leeches from smuggling back home with me most of the time.
Also, the bright color of the rain cover can help people see me when I need to be rescued if things happen.
Vital Medical Information
Please write down the following information on a piece of paper, and tuck it with your ID card, in case you need medical attention.
Clothing
First, please DO NOT wear cotton t-shirts and jeans to go hiking. Those fabrics don't dry fast and are not ideal on the trails.
Shirts
It's a no-brainer to decide on your clothing based on the weather. In summer, we wear lightweight shirts and shorts. In winter, we wear layers and fleece pants. However, we need to consider the terrains and vegetation.
My favorite fabric for hiking shirts is wool, especially
Merino wool
. The biggest reason is it does not smell at all, especially during the humid summer of Taiwan.
However, it's not as durable as synthetic shirts, and they are easy to get ripped on the rough terrains in Taiwan. Therefore, I will research the trails I will take to decide what I will wear.
What I Like about Takoda's Shirt:
It's made from recycled plastic bottles.
It dries fast and doesn't smell.
Some shirts can stick on your skin after sweating, but this one doesn't stick on my skin when I take it off.
The shirts fit my body well.
Pants: Summer and Winter
My Haglöfs one has been with me since 2017 and is a little thicker. So, I mostly wear it in cold weather. But, it's very durable because it sustained the fall I had during my
Tonghou River hike
. It was intact, not even a rip.
As to my Fjällräven pants, it's thin, light, and durable. When I just bought this pair and wore it to do
Badaoer hike
, I accidentally (stupidly) poked my thigh with the trekking pole. It hurt like crazy, but there wasn't a scratch on my pants. But please don't test your pants like this.
Rain Jacket
I just bought
Patagonia's jacket
. There are other lighter options, but this one is durable to combat the thick bamboo woods in Taiwan.
Rain Pants
I wear
Decathlon's rain pants
, and this pair has been with me for the past five years. The hems are already ripped, but it still works well for me on the trails. I'm very impressed by its durability based on its price.
Footwear: The Notorious Rain Boots
Most Asked Question about Wearing Rain Boots: Ankle Support
The rain boots are cheap, less than US$15 per pair, but it costs much more to make wearing them ready to hit the trails.
Insoles
I have flatfoot (Pes Planus). As a result, my feet don't have enough arch to support my body. This has caused issues with my poor knees and hip. Sometimes, the joints of my feet hurt after hikes.
I've tried several insoles in the past 5+ years, from cheap to expensive ones. Have I found the best ones yet? Nope, I'm still searching. Some insoles are at least 10+ times more costly than rain boots. I'm going to try the customized insoles to help my flatfoot.
So, you might be wondering why I still wear rain boots on the trails. It's so easy to clean up the rain boots after the muddy trails, and it's relatively easy to walk on the muddy and slippery trails.
Hiking boots
I've tried this pair on slippery trails, and I'm impressed by the performance of its outsoles to help me handle slippery terrains.
The Wet Stone Steps with Moss
My friend and I did a hike at Yangmingshan National Park in June 2022. He wore rain boots, and I wore hiking boots. When we were descending the endless stone steps covered with moss, I slowed down and tried very hard not to fall. Two hikers before me had slipped, which was scary. My friend said it's better to wear rain boots to hike at Yangmingshan, and he isn't wrong.
Sometimes, I must give up comfort and choose rain boots. Or I will choose rain boots if I know I have to cross the streams or rivers several times.
Please note that there are no boots or even rain boots that can help us totally combat the tricky slippery terrains in Taiwan. I still slip and fall while wearing rain boots on the trails, but I can tell the friction between wearing rain boots and hiking boots.
Wearing rain boots doesn't exempt you from the sticky situation, but it will be easier to clean up the mess.
What I Eat on the Trails: Taiwanese Style
There are many convenience stores and vendors in Taiwan, and we can get food and snacks easily in the cities. But those in the following are my favorites.
Fantuan 飯糰
This is one of the most popular breakfasts, and you can find vendors almost everywhere in Taiwan. Whether you are vegetarian or carnivore, you can find the ones you want.
The basic fillings are fried bread sticks, dried radish, and pickled mustard green. You can choose other fillings like sausage, tuna, or other vegetarian ingredients you like. The vendors will wrap those fillings with sticky rice or black rice. Then you have a cheap and very fulfilling lunch for your hike.
Hoya Vegan Jerky and Bars
Electrolyte Effervescent Tablets
I used to eat salt when I sweated a lot on the trails. Later, I thought I needed something more efficient that could help me recover fast. I tried those tablets, and they work well. You can find those tablets at PX Mart in Taiwan.
My Hydration System:
I have water bottles, a water bladder with a hose, and soft water bottles. Now, I bring a water bottle and several soft water bottles for my drinking water.
When I first started hiking, I used a water bladder with a hose, and I drank a lot of water in the hot summer. Drinking from the water bladder is easy, but it is difficult to ration how much water I drink. I could drink as much as 3L back then.
In the past two years, I've switched to using a water bottle (700 ml) and several water soft bottles to refill my water bottle.
I don't drink that much water on the trails in summer now, about 1.5L. But I will consume a large amount of water after hiking till my urine is clear after hikes.
One of the reasons is I try to intake less water on the trails to prevent electrolyte loss and muscle cramping.
However, I'm not a doctor. Please check on your doctor for advice about how much you should drink when hiking.
What's in My First-aid Kit
My medicine:
Asthma inhaler, Loperamide 止瀉藥, eye lotion 眼藥水, normal saline 生理食鹽水, paracetamol 普拿疼, Antihistamines (Benadryl) 抗組織胺, non-steroidal anti-inflammatory drug (ibuprofen) 非類固醇消炎藥, Chlorzoxazone 肌肉鬆弛劑, Topical corticosteroid cream 類固醇藥膏, betadine 優碘, etc.
Besides band-aids (regular and waterproof ones), gauze swabs, adhesive bandages, etc., I also put silicone tape. The silicone tape works well on the hotspots on my feet.
I also put a tick remover and a safety pin just in case I need to use the pin to pick something up from the wounds.
Also, my personal hygienic products.
Other Items Worth Mentioning
Must Have: Gloves
I always pack a pair of gloves in my backpack when hiking. It's not because of the cold weather but because volunteers/hikers set up many ropes. There are many steep slopes on the trails in Taiwan. Sometimes, those can be very long, like the 30-meter descending at Wuliaojian.
I try to avoid grabbing ropes on the trails, but often time it's inevitable.
Before you grab the ropes, please make sure those ropes are safe to use. We don't know how long those ropes have been there and whether they still can hold up our weights.
Hat
I used to wear a cap, but the scorching sun and constant rain in Taiwan made it difficult to protect my neck. So, I switch to Outdoor Research Seattle Sombrero Rain Hat.
Other Headwear
Buff Neckwear
(or something similar) is my favorite headwear on the trails. I tried to hike without wearing a buff on the trails before. I was surprised by how much my head could sweat.
Also, wearing a buff helps cover up my messy hair after hiking. It also helps cover up the smell of my hair.
Helmet
I wear a Decathlon SIMOND helmet when doing river tracing or climbing, like
Wuliaojian
. I wear this helmet for some 100 peaks trails with the potential of falling rocks.
Swiss Knife
Mine is the
Classic SD
, a small one with a pair of small scissors, a blade, a screwdriver, tweezers, etc.
3M Scotch Tape 130DC
LOHAS guides recommend this one. They have met hikers whose boot outsoles were falling apart (yes, that happens often). They used this tape to temporarily secure the boots till the hikers finished the hike. However, the safest way to prevent wearing the wrong shoes is to check before heading to the trail.
Gimbal: DJI
I use this gimbal when I have time to take time-lapse videos.
Those are my essentials to bring for day hikes. I also welcome sponsorships from those companies I mentioned here.
😃
Packing my backpack for the hike is a never-ending process to learn. Therefore, the items on my gear list are constantly evolving. I'll update my gear list when I have significant changes.
What is your list of essentials to bring for day hikes? Or any suggestion for me to pack in my backpack? Please feel free to share this with me. I would love to hear from you.
Disclaimer:
All content provided is for inspirational and informational purposes only. Creating, using, hiking, or traveling with Taiwan Hikes' suggested services or itineraries is at your own risk. Please use your best judgment and follow all safety precautions, as Taiwan Hikes and Anusha Lee are not liable for any losses, injuries, or damages from using this information.
Please also note that Taiwanese government agencies tend to change their URLs without bothering to redirect to the new ones. As a result, you will find some external sites on the Taiwan Hikes website are not working from time to time. Taiwan Hikes will try to update those URLs if possible.
Taiwan Hikes is not responsible for the content of external sites.