Jiemaosi Route to Jiaming (Chiaming) Lake Trail (No Cabin Permits Required)
The Jiemaosi route is a popular alternative for hikers who wish to venture to Jiaming Lake. Unlike the traditional route, which is difficult to get a bed at the Jiaming Lake Cabin, obtaining a permit for this route is straightforward, allowing hikers to focus on the adventure ahead.
As you traverse this path, nature unveils its magnificence. The route winds through enchanting forests with a pleasant encounter with the crystal-clear Xinwulu Creek, painting a scene out of a fairy tale.
Note: please cross the river with extra caution if the water is high or after rain.
But the crowning moment waits at the end: Jiaming Lake at dawn. The world seems to pause as the first rays of the sun dance upon the water's surface and a gorgeous glow in the sky. You will find a comparison table of the traditional and Jiemaosi routes below.
Hey, just wanted to let you know that a few of the links in this post are affiliate links. This means that if you decide to use them, I'll earn a little commission without any extra cost to you. Your support is greatly appreciated! Cheers, Anusha
Exploring Jiaming Lake: A Comparison of the Traditional and Jiemaosi Routes 傳統路線 V.S. 戒茂斯
Jiemaosi Trail was the indigenous Bunun people's ancient hunting trail. Due to its easy application process and pristine scenery, Jiemaosi Route has become another popular path to Jiaming Lake.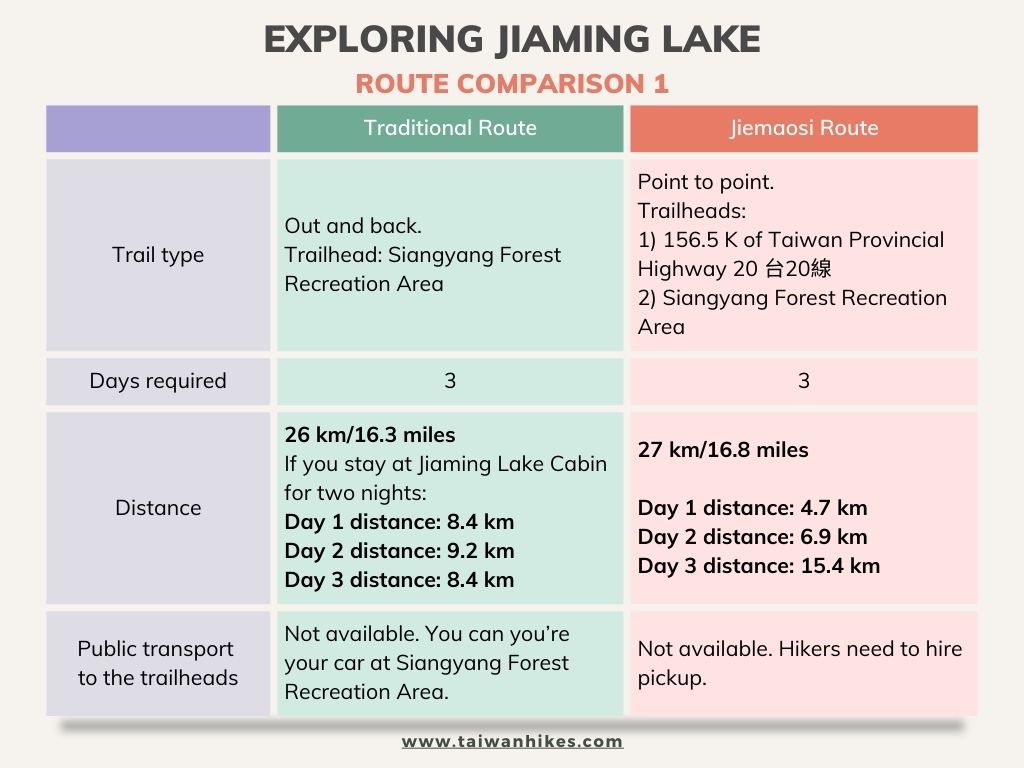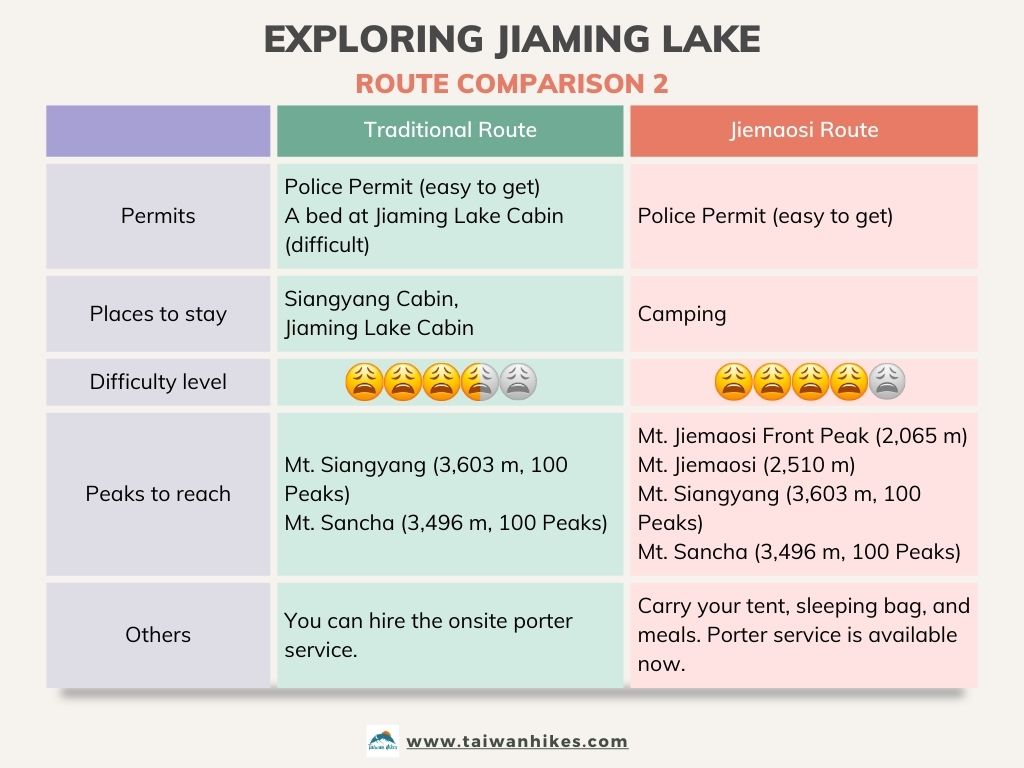 After doing two routes to Jiaming Lake, my favorite is the Jiemaosi one. I enjoy Xinwulu Creek and the stunning forests very much. Camping by the river was fantastic. I sat by the river long to enjoy the running water and tranquility.
Yet, this is also a more challenging route, especially on the last day of the hike.
Trail Information: The Jiemaosi Route to Jiaming Lake
Trail Name
: From Jiemaosi to Jiaming Lake
Distance
: 27 km (16.8 miles)
Route type
: Point-to-point
Days/Hours Needed
: 3 days
Total Ascent/Descent
: 2,835m/2,379m
Best Time to Go
: All year round except when typhoons come.
Permits
: Police Permit required
Difficulty Level
:
Peaks or Places to Reach
Mt Jiemaosi Front Peak 戒茂斯山前峰, 2,065 meters (6,745.4 feet) above sea level. No views.
Mt. Jiemaosi 戒茂斯山, 2,510 meters (8,235 feet) above sea level. There's a Class 3 Triangulation Stone and another "Shan 山 (mountain)" Triangulation Stone at the peak.
3. Jiaming Lake 嘉明湖, 3,310 meters (10,859.6 feet). The second highest alpline lake in Taiwan. The highest one is Cuei Pond near Xueshan.
4. Mt. Sancha 三叉山, 3,496 meters (11,469.8 feet) above sea level. There is a Class 1 Triangulation Stone at the peak.
5. Mt. Siangyang 向陽山, 3,602 meters (11,817.5 feet) above sea level. There is a Class 3 Triangulation Stone.
Available Campsites (No Need to Apply):
Xinwulu Creek Campsite
Volleyball Court Campsite: need to carry water
Soccer Court Campsite: need to carry water
Golf Court Campsite: need to carry water
Hunter Campsite
Additional Information:
Camping by Jiaming Lake is not allowed.
Many sections are exposed to the sun. Please do sun protection.
It can still be cold in summer.
Pay extra attention when crossing Xinwulu Creek when it rains or after the rain. The water can be very high and dangerous.
Transport to the Jiemaosi Trailhead, Trail Map, GPX Data, and How to Apply for Permits
No Public Transport to Jiemaosi Trailhead
The closest bus stop is at Lidao Tribal Village 利稻部落, which is around 16 km (10 miles) away from the Jiemaosi Trailhead. Hiring a pickup is a better option.
Trail Map and GPX Data
Click
Menu
in the map to download, print, or share the map.
You can see more options after clicking the Play button.
Click

to change the speed to meet your pace.
How to Apply for Police Permits
You will find both Jiaming and Chiaming Lake spellings on this database. If you also want to hike to Mt. Sancha and Mt. Siangyang (most people do), please search for Chiaming with an uppercase C, and Jiemaosi with an uppercase J. Both Jiaming and Chiaming Lake refer to the same lake but with different spellings. Welcome to the translation hell.
Get Free Guides on Public Transport and Applying for Permits. Or Hire Me!
Free Bus Guides to Hike Popular Mountains in Taiwan
Hire Me: Simplify Your Taiwan Hike with Our Services
Tackling the intricacies of permit applications and deciphering public transport routes in Taiwan can be daunting. We're here to make your hiking adventure hassle-free.
Captivating Moments on the Jiemaosi Route: Journey through Enchanted Forests and Crystal-clear Rivers
Brief itinerary
After driving for almost 4 hours, we finally reached the Jiemaosi Trailhead at 156.5 K of Taiwan Provincial Highway 20 台20線 at 10:07.
Day 1: Enchanted Forest and Beautiful Xinwulu Creek 新武呂溪
Usnea 松蘿 started showing up all over the trees. With the fog flowing in the forest, it felt like we trespassed fairy's home.
Soon, we crossed our second river crossing. The creek looked even more amazing.
Beside the babbling stream where I sat, I tried to capture photos and keep this memory, but witnessing this in person is always the best.
Here, without any bar of phone receptions, I finally embraced nature and let the creek and forests take away my thoughts.
Day 2: More Incredible Coniferous Forests Await and the Ridge's Serenade
You will find phone receptions here. It was strong enough for me to text but still patchy to send images.
As we enjoyed our lunch, wisps of mist danced around us, weaving in and out like ethereal spirits. The scene before us transformed, wrapped in mystery and reminiscent of a land from fairy tales.
For us Taiwanese, such Coniferous Forests are a rare delight, stirring our excitement. The thought of tents pitched atop soft pine needles was tempting to make another visit.
Yet, the trail ahead called. We bid farewell to this enchanting woodland and continued the trek.
When we did this hike in March 2023, southern Taiwan and several high mountains suffered droughts. The grass looked scorched under the brutal sun.
Whispers of the Formosan Sambar and Surprises Under a Star-Spangled Sky
As we prepared to gather water, the silhouette of a Formosan Sambar Deer emerged near our tents, a delight encounter with such a majestic creature. Our guides told us about their frequent nocturnal visits. Later, the glow of various eyes watched as I ventured into the shadows.
The charm of the Jiemaosi Route to Jiaming Lake has drawn many, but not all honor the Leave No Trace and sanctity of nature. So, remember to draw your water from a distance and respect the land.
Surprisingly, our phones could receive a signal to the outside world. With time on our side, our guide, Xiao Tsai, showcased an alternative therapy using his machete. Our Ukrainian hiking mates stood unflinching, while I almost embarrassed myself.
As dusk fell and our bellies filled, we retreated to our shelter. Yet, the starry sky was too bright to ignore. Ben, Rose, and I moved our sleeping pads and lay under the stars. As if on cue, a meteor streaked the heavens, and we all witnessed it together — a shared spectacle forever etched in my memories.
Day 3: Dawn's Embrace Over Jiaming Lake
I did the traditional route to Jiaming Lake in October 2023. However, due to the lack of experience, I missed the gorgeous sunrise even though the weather was great that morning. But this day, I bore hope in every step, eager for a second chance.
What awaited was a 400-meter ascent awaited, and my heart fluttered with anxiety and excitement (or just lack of enough training). The soft light rising from the eastern horizon made me uneasy even more.
I ventured to the lake's edge during my first journey. I stayed put this time, trying to capture its magic in a timelapse.
Ben, with a burst of energy, circled the lake thrice, and we watched in awe.
We reached Mt. Sancha. The wind was so strong that we could barely stay put.
The ever-changing landscape revealed hidden treasures, like a different face of the Jiaming Lake Cabin, bathed in clarity compared to my cloudy recollection from the previous journey.
While marching away from the cabin, I noticed this massive boulder escaped my attention during my first hike.
When reaching the junction to Mt. Siangyang, I chose to bypass due to the moody skies. Plus, I was already exhausted.
In the interlude, as we awaited our fellow hiking mates, Mother Nature once again played on fog and sunrays in a mischievous dance of hide and seek at Siangyang Forest Recreation Area.
A fitting, dreamy curtain closed our hiking story to the Angel's Tear Drop, Jiaming Lake.
Find a Hotel to Stay Using the Taiwan Hikes Code.
The Story of Jiemaosi: History, Significance, and What to Expect
In the Bunun tribal language 布農族, "Jiemaosi" (Kaimusu/Kaimos) refers to a type of spice plant. Its fruit emits a fragrance reminiscent of pepper, making it a choice of seasoning.
At the same time, "Jiemaosi" is also the name of one of the Bunun tribal communities, located approximately 1,700 meters above sea level on the banks of the Xinwulu Creek 新武呂溪, to the southwest of Bulaksan Mountain 布拉克桑山, close to today's South Cross-Island Highway near Liyuan 栗園.
Although Jiemaosi was never a large community, by 1934, it had dwindled to only two households due to resettlement policies and ultimately ceased to exist. However, before the uprising in 1915, the Jiemaosi tribe members made their mark by resisting Japanese rule.
The trail from Jiemaosi to Jiaming Lake was originally a hunting path for the Bunun tribe. After they migrated from Nantou to the Dafen Mountain 大分山 and Lakulak River 拉庫拉溪 in Hualien, some members crossed Jiemaosi, following this route to the Xinwulu Creek in Taitung in search of a new homeland.
Furthermore, this path wasn't just for migration and hunting — it was also a crucial route for the Bunun tribe to establish marital alliances with other communities, underscoring its importance in migration, hunting, and marriage proposals.
Fast forward to today, this ancient hunting trail has transformed into a paradise for mountain enthusiasts. Since 2005, when the government started to regulate the number of visitors on the traditional route, this old hunter's path became a popular alternative.
Now, due to its easy application process and pristine scenery, it has becomeg the most sought-after path to Jiaming Lake.
I hope you enjoy this post. Have you done the Jiaming Lake Hike? Which route did you take? Feel free to let me know in the comments below.
Disclaimer:
All content provided is for inspirational and informational purposes only. Creating, using, hiking, or traveling with Taiwan Hikes' suggested services or itineraries is at your own risk. Please use your best judgment and follow all safety precautions, as Taiwan Hikes and Anusha Lee are not liable for any losses, injuries, or damages from using this information.
Please also note that Taiwanese government agencies tend to change their URLs without bothering to redirect to the new ones. As a result, you will find some external sites on the Taiwan Hikes website are not working from time to time. Taiwan Hikes will try to update those URLs if possible.
Taiwan Hikes is not responsible for the content of external sites.